Fantasy Spring Resort Casino – JOY Asian Cuisine Creation
When Fantasy Springs decided to create an authentic Asian eatery on the property and was the first of its kind in Indio, CA, iGraphix was tasked to develop a naming for this establishment. Furthermore, it would also need a Chinese name to resonate with the Chinese patrons. After extensive research on Global gaming industry's Asian eateries' names and many rounds of discussions, we decided naming it "JOY Asian Cuisine". First of all, it is not only easy to remember the name, but also easily pronounced for all demographics. The name inspires happiness after visiting this dining establishment. More importantly, the name JOY is the same sound as the auspicious Chinese word (Choi), meaning Treasures. With the name JOY decided, we then named the establishment with a Chinese name of Chui Fook Lau, meaning House of Many Fooks (Fortunes).
With both Chinese and English names set, we then proceed to develop the branding with the creation of the logo and also partnering with F&B Department to incorporate the designs of the restaurant with many different Fook characters on its glass doors and interiors to represent the Chinese name of House of Many Fooks. We also had a helping hand in determining the menu that would feature not only different Chinese cuisines, but also adding Vietnamese and Korean specialty dishes that are popular.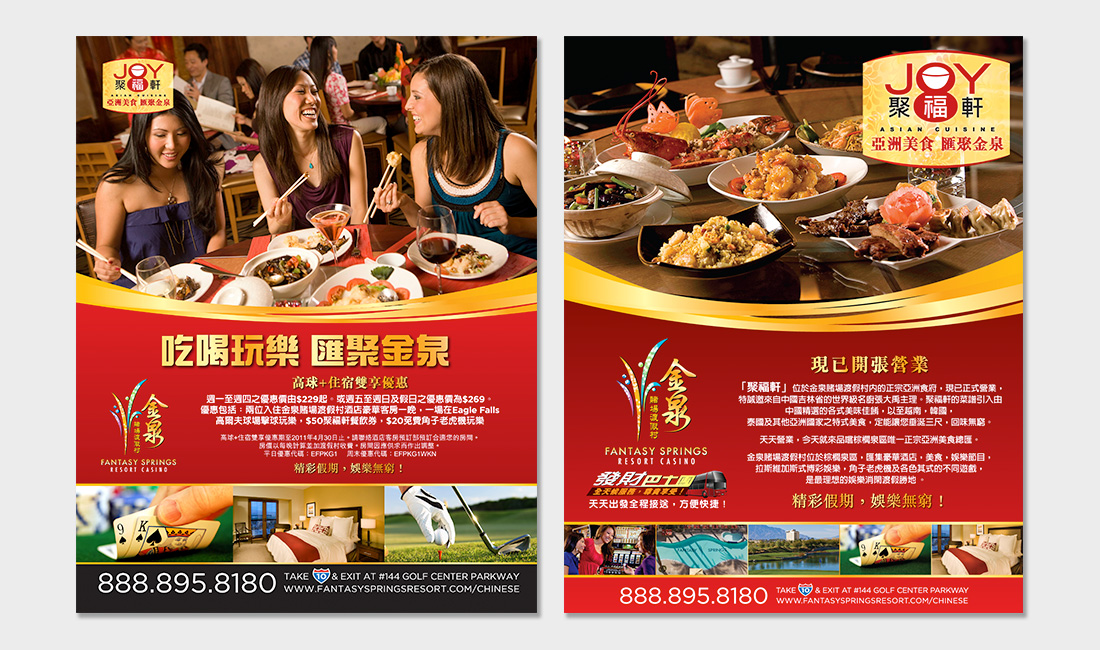 With everything in place for the launch of JOY, we then held a Grand Opening ceremony with ribbon cutting and lion dance to commemorate this special occasion. We were able to invite Celebrity Chef Martin Yan to serve as Honorary Chef to participate in the ceremony and also provide a cooking demonstration to a specially invited audience of VIP guests and medias.